3-in-1 Creator Castle 31120
11 V 21

Official pictures have been posted for the highly anticipated set 31120, 3-in-1 Creator Castle. Yes, we don't seem to be getting an official theme reboot any time soon, but this set has a lot to love. Come see all the pics and share the love (or your critiques) in our forum.
---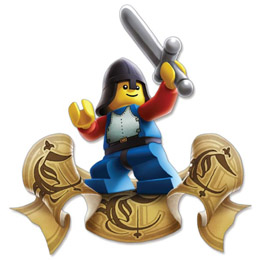 Colossal Castle Contest 18!
8 XI 20

The Classic-Castle Admins are pleased to announce our eighteenth annual building contest: The Colossal Castle Contest XVIII! Our contest begins on November 8th and ends on January 10th, 2021.

The contest is designed to offer building opportunities for castle fans with small and large collections of brick. We have many new categories this year plus popular fan favorites of the past like Festivals and Celebrations, Fairy Tale, and Custom Castle Figure.

Check out the prizes. A variety of new castle and holiday themed sets are included!

Thank you to several anonymous donors for donating prizes for this contest. Please contact the admins if you are interested in donating to next year's CCC. The contest rules can be found here. Enjoy!

The submit an entry portion of the contest will not be ready for one to two weeks of this announcement. We expect you will need time to build for the categories. Good luck!

Questions regarding the contest will be answered by the admins in the forum thread. It may take us a few days to answer a question, especially if it is a complicated one needing review by all of the admins. Thank you for understanding.
---
Colossal Castle Contest 18 - Coming Soon!
6 XI 20

It is that wonderful time of year again where castle fans from around the globe share their world class medieval creations in the Colossal Castle Contest.

The admins are busy finalizing the prizes and categories. Look for updates in the next few days!
---
In a hole in a ground there lived some inspiration ...
4 XI 20

This month's discussion topic asks what inspires you to build. A favorite book? Movie? Real life history? Dungeons and Dragons gaming? One great example is Thorsten Bonsch, who is turning to The Hobbit for inspiration, retelling the story in a series of vignettes. Check them all out for some great building ideas, like the rain in this scene.

Share your inspiration in our forum.
---
Autumn Courtyard
2 XI 20

The leaves are changing colors, there's a chill in the air, and man, I need to get to work in my yard cleaning all those pine needles. The members of InnovaLUG collaborated on a project building fall-themed vignettes. Here's Autumn Courtyard by Roanoke Handybuck.

Share your favorite seasonal MOC in our forum.
---
Table Lamp
31 X 20

Palixa and the Bricks made a great Halloween themed table lamp with four scenes using silhouette cutouts and trans elements around a light source, including this vampire castle. Share your favorite MOC using silhouette effects in our forum.
---
Castle of Lord AFOL
30 X 20

Lego Sleepless Nights' Castle of Lord AFOL is not only a great MOC, but also beautifully rendered and he's able to make it into really compelling scenes. For Halloween it got a spooky makeover. Share your favorite spooky castle in our forum.
---
Vargheist
28 X 20

A Vargheist is apparently a monster in Warhammer tabletop gaming, but this vignette by BardJaskier is perfectly scary for the Halloween season. What's your favorite scary vig? Share it in our forum.
---
Welcome home, darling
27 X 20

Shannon Sproule uses lighting to create a great spooky effect in his Welcome home, darling. Share your favorite example of the dramatic use of lighting in our forum.
---
Project Classic Castle
26 X 20

Hellboy.bricks and Patrick B have been working on what they call Project Classic Castle. Each month they have been recreating great official sets from the past using modern building techniques. This has led to great MOCs like Hellboy.bricks' rendition of Medieval Market Village and Patrick B's Forestmen's Crossing. But let's focus on a much smaller, but still really cool MOC. With perfect timing for the Halloween season, Hellboy.bricks reinvented set 1596 - Ghostly Hideout.

Definitely check out all of the great MOCs by Hellboy.bricks and Patrick B on Flickr and then discuss them in our forum.
---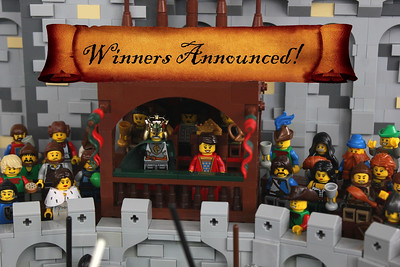 Summer Joust results
17 VIII 20

If you've been watching Flickr at all for the past few weeks, you've surely been enjoying all of the great castle MOCs inspired by the Summer Joust, an annual contest organized by Isaac Snyder. The results are in! Head over to Flickr now to see the results and check out the awesome MOCs in the dedicated Flickr group. Congrats to the winners and all of the participants. Thank you to Isaac and the other organizers for this great promotion of the best LEGO theme ever. Discuss your favorite Summer Joust entries in our forum.
---
Minas Tirith
10 VI 20

A few weeks ago a category in the Style it Up contest challenged builders to come up with a fully symmetric build. Mountain Hobbit came up with this great version of Minas Tirith. Be sure to scroll through his whole Flickr stream, as it's full of great castle-themed MOCs like the walls of Stoneharrow and his fishing docks. including, as you can guess from his name and from the MOC I posted, lots of Tolkien-themed MOCs like his Hobbiton collaborative build and his Minas Ithil. Discuss your favorite in our forum.
---
Grey Wolf Trail
8 VI 20

A different kind of castle MOC today with a modern setting, Daniel Stoeffler's Gray Wolf Trail: "The wars of the past have left us many ruins that today serve as hiking destinations. This creation represents a ruin of a small outpost invaded by vegetation over the centuries. The tomb of a knight is a reminder that its destruction is probably the result of a battle, and the well, restored and closed by a gate, is surrounded by white flowers which brighten up the place a little. After being secured, this place is a stop on the "gray wolf hike", identified by the sign, and a bench has been set up so that hikers can rest there and meditate on the passing of time."

How have you incorporated castle building into a modern setting? Maybe a ruin like this one, a Renaissance fair or other castle reenactment, something from a museum? Be sure to share in our forum,
---
Into the Ruins
5 VI 20

Carter Witz shares this great MOC, Into the Ruins. I'm really intrigued about the story of this explorer, where he's going, what he finds there, and why he's bringing a chicken. The combination of above-the-surface and below-the-surface reminds me of Carter's previous MOC Flooded. Share your theories of the story behind this scene in our forum.
---

3 VI 20

Four builders have gotten together to create a story, La Cospirazione, in the Guilds of Historica over on Eurobricks. The builds they created to illustrate the story are truly stunning: W. Navarre - part 1, Kev.the.builder -part 2 (seen above), Jonatan Svenning - part 3, Mrcp6d - part 4.

Read the story, check out the MOCs, then come back and share your thoughts in our forum.
---
Summer Joust 2020
1 VI 20

Castle LEGO is the best LEGO, and we here at CC are happy to promote Castle building all over the LEGO community. Check out Summer Joust 2020 over on Flickr, hosted by CC member and past Master Builder Isaac Snyder. See the categories and rules at that link. Also discuss this contest in our forum. Remember to post all of your entries in our Castle MOC forum as well, so we can all see them and give feedback.
---
Watchtower on the Road
28 V 20

This is Roger Cageot's first posting on Flickr, but, man, he started out with a bang. Be sure to click through to the gallery to see all of the details, views from all sides, even coming apart in a clever way to see the interior, of his Watchtower on the Road. Then come back to discuss it in our forum.
---
Beauty is in the eye of the Beholder
20 V 20

Anyone who's played Dungeons and Dragons will immediately be drawn to I Scream Clone's Dungeon Depths. He also used trans elements to make a cool lighting effect.

Share your favorite dungeon monster MOC, either by yourself or someone else, in our forum. If you're looking for some building inspiration, check out the D&D Monster Manual.
---
Chateau Mokotoff
15 V 20

CC and LugPol member Kris Kelvin comes back from a mini-dark-age with a bang, showing his Chateau Mokotoff. It's been several years since he's been active in this forum, so if you're unfamiliar, check out his Brickshelf gallery and his Flickr stream for tons of great MOCs. Discuss your favorites in our forum.
---
Gatehouse and Guard Tower
7 V 20

Sometimes you want to go out for a walk but you also don't want to leave the castle. Spencer Winson found the solution with his Gatehouse and Guard Tower, in a classic color scheme. BTW, check out that awesome part usage of the Duplo element, and discuss it in our forum
---
Majisto's Island Observatory
7 V 20

Andhe:-) was checking out some classic sets and took the Scala set 6414 Dophin Point and reworked it into a classic castle theme with Majisto's Island Observatory.

So here's the challenge - if you're looking for something small-to-medium-sized to build during lockdown, take an old set from a non-castle theme and castle-ify it. Let's see what you can do. Be sure to post it in our forum.
---
Battle of Dunbar
30 IV 20

Dan Harris, part of the Brick to the Past group of builders, presents the Battle of Dunbar. 724 years ago this past Monday, the forces of King John Balliol took to the battlefield to defend Scotland against the invading forces of Edward I of England. Check out this and other MOCs by the Brick to the Past team on their blog, Blog to the Past, and discuss them in our forum.
---
Harry Potter Summer 2020
28 IV 20

LEGO has released images of six upcoming Harry Potter sets, including these centaurs and some other new elements. Discuss their potential for castle builders in this thread.
---
Tensegrity
24 IV 20

Tensegrity, or tensional integrity, is a construction principle where solid elements are held together by tension among cables. You may have seen the Needle Tower at the Smithsonian or this children's toy (my daughter had one of those as a baby). Or I remember building a floating flagpole when I was in the Scouts (that one's not ours, just one I found online). Anyway, there's been a spate of MOCs on Flickr in the last few days that use this idea to make it seem as if elements are magically floating in air. IMO one of the best is CaptainSmog's Invocation. Esgyria, an elven sorceress invocating Tensegriton the mighty flying wyrm.

Discuss your favorite tensegrity MOCs, or share one of your own in our forum.
---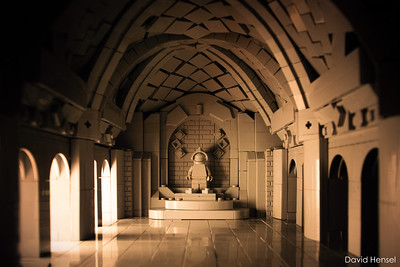 Shrine of Sir Simonochrometrical
17 IV 20

Innovalug is currently running the Style it Up contest with categories to inspire building. One category asks builders to use only one color element, another is looking for completely symmetric MOCs. Dave Hensel fits both of those categories with his Shrine of Sir Simonochrometrical.
---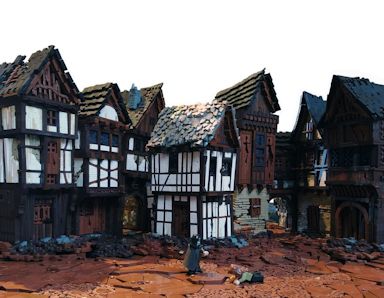 Colossal Castle Contest XVII - Winning Entries!
CC Contest Team 5 IV 20

Congratulations to all of the winners in the Colossal Castle Contest XVII! Thank you to all of our members who entered the contest. Your creations were outstanding!

In addition to the winners, we also wish to recognize outstanding creations. An Honorable Mention is provided for the top two runner's up entries in a category and the top five runner's up in the miscellaneous category.

Please contact Ben Ellermann by private message or email if you won a category so we can ship out the prizes!

We would also like to thank our prize donors again this year for your generous donations! Please contact the admins if you are interested in donating a prize to the next CCC.

The Master Builder prize will be held for a future contest as the entry requirements were not met for eligibility.

Discuss the Winner's here.


---
Congratulations, Isaac
26 II 20

Big news for one of our own. Isaac Snyder, Soccerkid6 in our forum, recently started his dream job as a LEGO designer. Maybe he can give us some inside scoop on future castle lines ... Just kidding, congratulations, Isaac!
---
Maxifigs
11 II 20

Scaled-up versions of LEGO elements have long been a favorite subject for some AFOLs, and minifigs from all themes have been recreated at various scales. In 2000 TLG made it much easier for all of us by releasing set 3723, with instructions to create your own giant mini friend. Join this thread to celebrate castle-themed maxifigs at any scale, such as Steffan Rau's Gandalf pictured above.
---
Minifig Contest
7 II 20

In celebration of Minifig Month, please enter the February Minifig Contest (follow the link for rules and other details). Four categories, 3 with standard parts, 1 for minifig customizers. Using official LEGO elements, build a royal court of five characters (like the picture above), a group of 5 peasants, or an army of five soldiers. The fourth category asks you to get out your paint, exacto knives, sculpy, decals, etc and make a great custom castle figure. Looking forward to seeing what you make!
---
Minifig Month
4 II 20

Hi all! February is Minifig Month here at Classic-Castle. Let's spend the month celebrating our favorite little ABS friends. Tell us about your favorite fig, or maybe how you chose your sigfig. Share your armies or let us know what you're looking for. With no current castle line, what figs are you finding useful from other recent themes or the Collectible Minifig line (like maybe this or this)? Check out our Castle Customs forum to share your customs or learn from others' techniques.

BTW, if you're a newer community member, that happy little guy smiling at you is Henry, a early CC mascot, who years ago went on a long journey.
---
Happy Chinese New Year
25 I 20

Happy Chinese New Year. 2020 is the year of the rat. Head over to this thread to post your favorite Chinese castle MOCs, or castle MOCs featuring rats. Feel free to post one you built or point us all to a great creation by someone else, such as this one, the Shrine of the Golden Dragon built by SpaceBrick.
---
Previous month's news
---