July 2014
---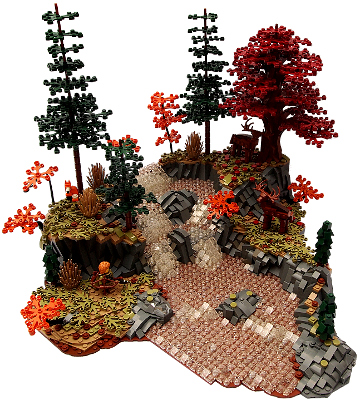 Frišsęlt Falls
31 VII 14

Brother Steven created this beautiful scene, Frišsęlt Falls, for a contest in the Inpirational LEGO group. See this along with all of Brother Steven's MOCs on Flickr and then discuss it in our forum.


---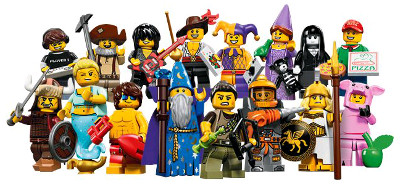 CMF Series 12
27 VII 14

A couple of days ago the official picture of Collectible Minifig Series 12 was released. It looks like a great series for castle builders, with the wizard, the fairytale princess, the hun warrior and the jester being directly relevant to us, and several others that could be fit into a castle/fantasy world. Word is that they will come out in October, and also that they will be at the higher price point we saw with the Simpsons line. Presumably these figs will come with the code to play the character in LEGO Minifigures Online. Share your thoughts on this upcoming series in the forum.


---
Seed part winner
25 VII 14

There were a lot of great entries to the June seed part challenge. Who knew that space airtanks were so useful in castle times? Last week the winner was announced. Congratulations to Pedro Ivo for your MOC Neil faces Caudamarella, the Hollow Tree guardian. Be sure to congratulate Pedro and all of the participants in the forum thread. Come back soon for the August seed part challenge.


---
Official set: Lonely Mountain
24 VII 14

According to the Hollywood Reporter, LEGO is unveiling the next Hobbit set at ComicCon. This set is the Lonely Mountain (or elsewhere in the article it is called the Dragon's Lair, but I assume the official name is Lonely Mountain). It is 866 pieces, includes Bilbo, Balin, Dwalin, Ori and Gloin, and a molded Smaug. It is reported to run for $130. According to Comicbook.com it will be released in October (along with other Hobbit sets) but according to Brickset it will come out in November or December. Check out the full scale picture to see the details and then. share your thoughts in our forum.


---
House of Chaos
15 VII 14

People at the recent Christchurch Brick Show in New Zealand ("a wondrous land full of knights, castles, mutton, torture weapons, poverty, leeches, illiteracy, and, um ... dragons") were lucky enough to see Legonardo Davidi's most recent MOC, the House of Chaos. He very deservedly won both AFOL choice and first in show. You may recognize his style from several of his great CCC entries. Look around back for a little surprise. Check out this, along with Legonardo's other MOCs on Flickr and then discuss it in our forum.


---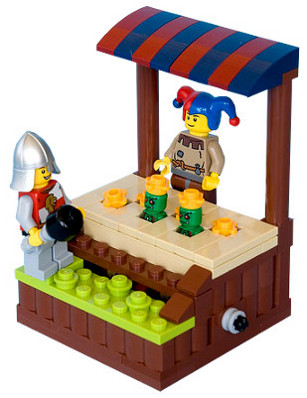 Whack-a-Troll
13 VII 14

Ted Andes built Whack-a-Troll It even works - watch the video. You con-troll the action! Check out this along with Ted's other MOCs on Flickr and then discuss it in our forum.


---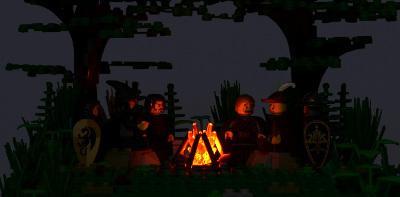 Meeting in the Dark
11 VII 14

Teabox (henrik zwomp) uses lighting to great effect in a meeting in the dark. Check this out along with all of his other MOCs on Flickr and then discuss in in our forum.


---
CC Set Review: 9476 - Orc Forge
10 VII 14

Join the Classic Castle set review discussion. Please post your opinions on the set play ability, piece selection, design, etc. Which sets stand up to our catapult of critique and which ones crumble in shame!

This week's set is 9476 - Orc Forge.

This 2012 set was an exclusive, only available at Target. It included four orcs (two from Mordor, and two, including Lurtz, from Orthanc). The forge suggests that this is meant to represent the arming of Orthanc, though the mixing of orc kindreds really fits better the race of the mingled group of orcs across the northern frontiers of Rohan with captives Merry and Pippin in tow.


---
Hobbiton
9 VII 14

Alice Finch, aka Bippity Bricks, is no stranger to large builds, having been known previously for her massive Hogwarts and Rivendell, among other MOCs. Here she presents her Green Dragon inn and Hobbiton marketplace (that I believe was previously displayed at the Emerald City Comic Con). Check this out along with all of her other builds on Flickr and then discuss it in our forum.


---
Princess Bride collaborative
7 VII 14

At BrickWorld, a group of builders composed of Paul Vermeesch, Dan Church, Max PointnerIan Spacek, Casey McCoy, Philip Berntson, Matthew Oh, Ben Merrill and Lee Muzzy unveiled the Princess Bride collaborative. Check out all the MOCs and discuss them in our forum.


---

Battle of the castle sets: King's Carriage vs Skeleton Prison Carriage
3 VII 14

Two sets enter the arena, only one can emerge victorious! Set 6044, the King's Carriage, versus 7092, Skelton Prison Carriage. Which castle set reigns supreme? Vote and share your thoughts in our forum.
---
Toltoburg
1 VII 14

CC members Toltomeja and Lego_fan are also members of the Polish LUG Zbudujmy.to. They collaborated on this amazing MOC, Toltoburg, that will be on display with other creations by their LUG this summer in Swarzewo, Poland. If you're in the area you can check it out in person, but otherwise you can see all of their MOCs in Toltomeja's photostream and Lego_fan's photostream. Check them out, and then discuss Toltoburg in our forum.


---