June 2015
---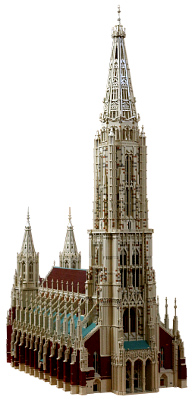 Ulm Minster
29 VI 15

Ulm Minster is the tallest church in the world, begun in Ulm Germany in 1377 but completed only 125 years ago. As part of the anniversary celebration, two Legoland model designers, Vera Feldmann and Anastasia Trautwein, built a 2.3 meter tall LEGO rendition. It was originally displayed at Legoland Germany, but is now installed in the church itself for the rest of 2015. Check this out and then discuss it in our forum.


---
Byzantium Contest winners
27 VI 15

A couple of weeks ago (sorry for the delayed front-page announcement) Maedhros announced the results of the Byzantium Contest. The honor goes to Mark of Falworth for his Battle of Nineveh 627-AD. Maedhros notes "the fact that we got a glimpse of an actual historical battle and its main players here and the build was excellently executed, with an inspiring and dynamic posing of figs which makes me long for the old Battle Contest that Josh used to host. The choice of figs and accessories was also well done, highlighting the Roman continuity of the Byzantine Empire." You can see the runners up and congratulate Mark on his win in our forum.


---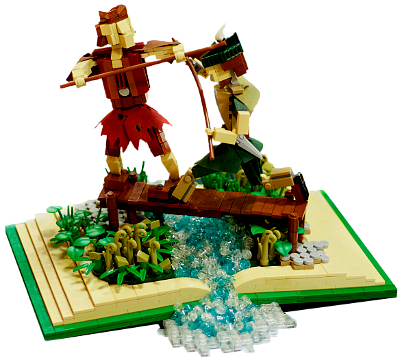 Brick Time Stories
26 VI 15

One cool collaboration at BrickWorld was Brick Time Stories. Eight different builders each made books with illustrations popping out of the pages. Books included things like Harry Potter, Where the Wild Things Are, and Paul Vermeesh's Robin Hood and Little John. You can check this out along with all of Paul's MOCs on Flickr and then discuss it in our forum.


---
Snake!
24 VI 15

Sharon Vance brought this mosaic, Snake! to BrickWorld last week. Check out some of her other work on Flickr and then discuss this in our forum.


---
Caernarfon Castle
21 VI 15

If you Didn't get a chance to see Bob Carney's latest, Caernarfon Castle, at BrickWorld, you must watch the video linked above. You can check out all of Dr. Carney's work on his site, CarneyCastle.com and then discuss it in our forum.


---
Happy Fathers Day
21 VI 15

Happy Father's Day from Classic-Castle! Go spend some time with your dad. Or, if you are a dad, go build a MOC with your kids. Pere et fils druide by Nat 94 (btw, that kid has a pretty impressive beard):


---
Building inspiration - Bodiam Castle
20 VI 15

Inspirational picture of the week - build a castle based on Bodiam. This impressive castle was built in 1385 by Sir Edward Dalyngrigge in East Sussex, England. Photo by Steve Fitch. This castle has been the inspiration for LEGO versions, including these by Bob Carney and Aquariusfuzz. You can find lots of inspiration for your building in this forum thread.


---
Kyrrath Fortress
19 VI 15

Jaapxaap built this MOC, Kyrrath Fortress, for the Guilds of Hisorica on Eurobricks. Check this out, along with all of Jaapxaap's work, on Flickr and then discuss it in our forum.


---
Enchanted Forest Diorama
18 VI 15

The Portuguese AFOL group Comunidade 0937 holds an annual show, Arte em Pecas, that always brings together some amazing MOCs. This year was no exception. CC member Cesbrick (aka César Soares) brought together a lot of his castle MOCs, along with a church by Hugo Santos and help in the assembly by other Comunidade 0937 members, to make this Enchanted Forest layout. Check this out, along with all of Cesbrick's work, on Flickr, and then discuss it in our forum.


---
Magna Carta
15 VI 15

Today is the 800th anniversary of the signing of the Magna Carta. Of course James Pegrum has MOC'd this significant event more than once, this larger version and this vig form that is part of his kings and queens of England series. You can see all of James' work on Flickr and then discuss it in our forum


---
Cinderella Castle
9 VI 15

Erik Jones crowdfunded this Cinderella Castle with an Indiegogo campaign. The final castle used over 50,000 bricks and is going to be donated to Give Kids the World, an Olando charity that brings seriously ill children to Disney.


---