Brick Built Bovine

Onishi Shinji is an AFOL from Japan. He's created a number of iconic MOCs, including brick-built monsters and everyday animals. Perhaps my favorite is his cow. All of Onishi's MOCs can be found in his Brickshelf gallery.


---



History of LEGO Cows

LEGO has had a long history with Cows. The original stylized Duplo cow was available in dark orange and rust varieties, sometimes with solid black eyes and sometimes with black and white eyes, in at least 17 sets ranging from 045 Farm in 1979 to 2394 Farm Bucket in 1994. In 1996, LEGO re envisioned their farm animals, creating more realistic molds for sets like 2697 Farm Animals. Both cow and calf elements showed up over the next 11 years in hostein (white with black spots) and guernsey (brown with white accents) breeds. While these sets were mostly based around modern farms, there were a couple of sets such as 9185 Cowboys set in the Wild West. This yes, a new set of molds was developed. More dynamic cow and calf elements appeared in 5649 Big Farm and 5646 Farm Nursery.

Outside the Duplo sets, we also find a cow element in Fabuland. Clover the Cow is one of the rarer Fabuland figs, only appearing in 1980's 3665 Ice Cream Shoppe and two small fig sets.

System builders, though, spent many years looking over the fence at the greener grass in Duplo land. An official cow seemed an obvious inclusion in Castle, Train and, most glaringly absent, the Wild West. Finally in 2009 LEGO developed a System-scale Farm subtheme of the Town line with a cow element in 7637 Farm. This cow, which also appeared in 10193 Medieval Market Village, is available in holstein and guernsey breeds. Hopefully this element will appear in additional sets in the years to come. Who knows, we may even see a revival of the Wild West line.


---

Holy Cow!

The most infamous cow-centric event in history is either the Great Chicago Fire, or the incident of the golden calf at Mount Sinai. Brendan Powell Smith illustrated this story in LEGO form as part of his Brick Testament project. If you go through Brendan's stories, you'll find a number of cow related passages. Unfortunately, these don't always turn out well for the cows involved.


---

Micro Moo

When Jason Alleman built a micro-scale steam engine, he wanted an appropriate setting to display it. What better than a farm scene, complete with a tiny herd of cattle. Unfortunately some aliens are in the mood for steak; man, I hate it when that happens. In additon, Jason has built a number of great microscale farm equipment MOCs.


---

Cattlecar

Eastsidephoto (Bob) built this Denver Rio Grande Railway Stockcar, so his cows could ride in style. If you compare it to the real thing you can see that he got the design spot-on. BTW, his cows are based on Jason Alleman's design.


---

Set Review: Farm

Join the weekly Classic Cattle set review discussion. Please post your opinions on the set play ability, piece selection, design, etc. Which sets earn a "Holy Cow!" and which should be put out to pasture!

This week's set is 7637 Farm.

While cow elements have long existed in the Duplo theme, System builders finally got their wish in 2009, when minifig-scale cows were released in set 7637 and also in 10193 Medieval Market Village. Unfortunately, we have yet to get a cow in a set cheap enough to easily build up our herds, but with an upcoming pig impulse set we can hold out hope. In addition to tractors and a silo, set 7637 includes a barn and, most importantly, two holstein cows with comfortable stalls to live in.


---

Ride 'em, cowboy!

Rupi is a Portuguese AFOL and a member of Forum 0937. In his Iiihaaa! he shows us a great western-themed MOC, a bullrider. All of Rupi's MOCs can be found on Brickshelf.


---

Cows in Space

The Pigs on the Wing contest over on Reasonably Clever encouraged builders to create cave racers piloted by animals. Polywen won Class 1 with his Red TRCTR. In addition, BecTodd's Cow Jumping over the Moon was an honorable mention in the diorama category.


---

Watchin' the world go by

French AFOL Erik Amzallag wanted to introduce some movement into his train layout, so he came up with motorized cows. He's used a Mindstorms RCX in an ingenious way - when a sensor sees that the train is coming, it signals a motor to turn the cows' heads to watch. See it in action. Erik has even provided instructions in his Brickshelf gallery so you can build your own. Inspired by Erik, Jason Alleman built his own variation.


---

BrickForge cattle

Customs dealers have been willing to step in and create elements that LEGO hasn't made. A couple of years before the official fig-scale cow, BrickForge created a series of custom farm animals. Andrew has a great review on Brothers-Brick. They are still available, so you can bring variety to your LEGO herd. Here's a good discussion to compare and contrast official and BrickForge cows.


---

Meanwhile, back on the farm ...

Classic-Cattle member and cow fan SlyOwl built this great farm scene: Cheesemaphone. All of SlyOwl's work can be found on Flickr and Brickshelf.


---

Miniland Milk Makers
Legoland would not be the same without pastoral scenes, and what better to populate these but miniland scale cattle. Here we see a pasture scene from Legoland, Windsor. Photo by Helena Pugsley.


---

Cow sculpture

Oliver Kutsche is a German AFOL known for creating fun sculptures like characters from Calvin and Hobbes, Wallace and Gromit and Sesame Street. His first sculpture not based on a previously existing character was this Cow. All of Oli's MOCs can be found on Brickshelf and MOCpages.


---

Fabuland Housewives

Classic-Cattle member Brickzone, aka Mark Larson, is one of the newest Master Builders at Legoland California. In his off-hours LEGO building, Mark is known for his Fabuland Housewives series. One of the featured characters is Governor Cora Cow, played by Connie Cow: "Cora is Governor of Fabuland®. She is one of the only people that can stop Mayor Langston from his dirty narcissistic tricks." In addition, Doctor Candace Cow plays a guest starring role: "Doctor Candace is Gavin's therapist. She has no short term memory."


---

Set Review: Animal Mosaic Puzzle: Four Tame Animals

Join the weekly Classic Cattle set review discussion. Please post your opinions on the set play ability, piece selection, design, etc. Which sets earn a "Holy Cow!" and which should be put out to pasture!

This week's set is 1078 Animal Mosaic Puzzle: Four Tame Animals.

System builders may be surprised to learn that official LEGO mosaics didn't start in 2000 with set 3443, instead they have long been a staple in the Duplo line. One great example is set 1078, released in 1987. Kids can build the 72 patterned 2x2 tiles on 4 red 6x12 Duplo plates to create horses, goats, ducks and, of course, cows. Related sets 1014, 1019 and 1079 have kids building a variety of other animals including household pets and wild jungle animals.


---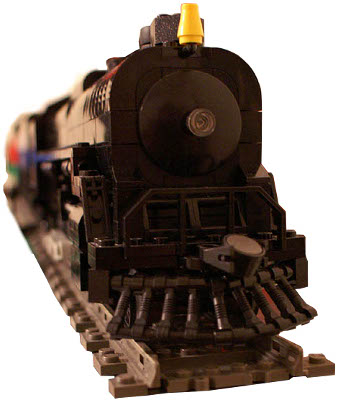 Cowcatcher
Despite what the name might suggest, cowcatchers (also known by the more prosaic 'pilot') are not there to protect the cows. They're to protect the train from any object, including a stray cow, found on the tracks. Here Classic-Cattle admin Anthony Sava's Polar Express, which has a great cowcatcher design.


---

Livestock Juggler

Last year, the Job Mullers Contest sponsored by Aliencat and Bluesecrets encouraged forum members to develop creative jobs for their castle figs. In a burst of inspiration, Life_Unscripted came up with the Livestock Juggler. Who needs chainsaws and burning torches for some death-defying stunts when you've got BrickForge animals?


---

What a Cretan!

When King Minos angered the god Poseiden, his punishment resulted in the Minotaur - half man, half bull. This monstrous creature was kept in the labyrinth and consumed human sacrifices from Athens, until he was slain by Theseus. Micah Berger built this great minotaur (an improvement on his earlier version). All of Micah's monsters can be found in his Brickshelf gallery.


---

Would you like some fries with that?

I Scream Clone built an iconic burger and fries for the lifesize model category of the MOCAthalon contest over on MOCpages.


---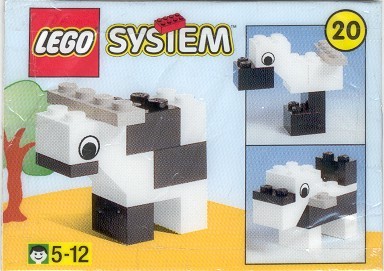 Set Review: Cow

Join the weekly Classic Cattle set review discussion. Please post your opinions on the set play ability, piece selection, design, etc. Which sets earn a "Holy Cow!" and which should be put out to pasture!

This week's set is 2132 Cow.

The Cow was released in 1998 as a promotional set for the French dairy and other food products company Danone (known in the US as Dannon). 10 basic bricks plates and slopes, including one printed brick, can be used to build a cow, a duck and a dog. While the promo set had limited availability, this polybag was also the December 20 gift in the 1999 Advent Calendar 1076.


---

Thunder of the Plains

The American bison, or colloquially the buffalo, once roamed the plains of the American midwest, providing sustenance to native tribes living in the area. Overhunting drove these to near extinction, but careful conservation has brought them back. So now we can enjoy buffalo burgers. Jordan Schwartz built this bison calf to populate a stagecoach scene.


---




Hey Diddle Diddle

There just aren't enough Duplo MOCs out there. For cow fans, though, there are a lot of possibilities, with nine different cow designs to choose from, plus any number of barn and other related elements. In this MOC, Classic-Cattle admin Bruce puts a cow to use in an illustration of classic poetry - The Cow Jumped Over the Moon.


---