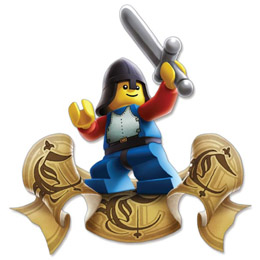 The CC Team is proud to announce our fifteenth annual building contest: The Colossal Castle Contest XV. It begins on November 1st, 2017 and ends on December 31st, 2017.
This contest is a bit different than other contests. We have a variety of categories each with one prize for the winner. Some categories require small creations and others need larger ones. Everyone, even with a limited supply of bricks, should be able to enter several categories. We are looking for creativity, not who has the most LEGO.
Check out the
prizes
. Classic Castle sets include Horse Cart, Catapult, King's Catapult, Battle Dragon, Black Knight's Boat, Sea Serpent, Black Knight's Guardshack, Black Knight, Dragon Wagon, and Skeleton Surprise. The fifteenth CCC also has awesome new prizes including King Pig's Castle, Magic Rescue from the Goblin Village, and Breakout from the Goblin King's Fortress. It truly is colossal!
Thank you to several anonymous donors and Rich Stehnach "Blackrock" for donating prizes for this contest.
The contest rules can be found
here
Enjoy!
Entries can now be submitted
here
.