Join the Classic Castle set review discussion. Please post your opinions on the set play ability, piece selection, design, etc. Which sets stand up to our catapult of critique and which ones crumble in shame!
This week's set is 79006 - The Council of Elrond: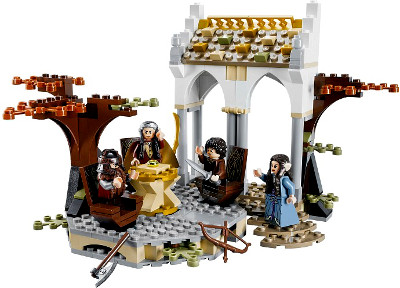 Released in the 2013 wave of Tolkien sets, this set introduced the figures of Elrond (who had previously only been available in a promotional tie-in) and Arwen, along with Gimli and another Frodo. 79006 saw the introduction of the new gothic half-arch piece, and also had foliage elements in dark orange and lime green.
The set even included an action element. Builders could reproduce the hilarious moment when Gimli was so dumb he thought he could destroy the one ring with his axe. Let's all laugh at the short guy, because, you know, the only point of Gimli is comic relief.
Bruce