The "Stone Brick" 1x2 Brick
Posted:
Tue Dec 15, 2015 10:10 am
I've just checked my local lego store and their pick a brick wall inventory, and I have found an unusual piece:
6000066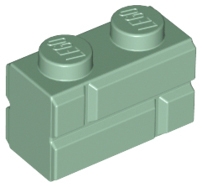 I may be a little bit uninformed as I was busy with a couple of stuff these past years, but this seems like a very interesting piece. Would it be worth it to buy from their wall in the store or through bricklink? Has someone used it in a MOC and what are your experiences with this piece?