Hi all,
Ulm Minster is the tallest church in the world, begun in Ulm Germany in 1377 but completed only 125 years ago. As part of the anniversary celebration, two Legoland model designers, Vera Feldmann and Anastasia Trautwein,
built a 2.3 meter tall LEGO rendition
. It was originally displayed at Legoland Germany, but is now installed
in the church itself
for the rest of 2015.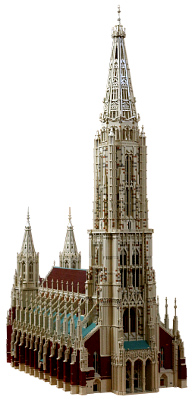 Photo credit to Sonja Kueppers
Bruce