Contest: The Flag of your Kingdom
The concept: Pick a LEGO flag and build a castle kingdom for it.
The twist: Castle flags will score lower than flags from other LEGO categories. Yep, I said that. So feel free to build a kingdom of the Black Falcon, but know that it won't score as high as say the Kingdom of Lightning McQueen (Please note…I have no idea if there is in fact a Lightning McQueen flag…I was just picking some LEGO set that I know wasn't castle.)
The rules:
1) Pick an existing LEGO flag.
2) Build a kingdom for that flag. Oh and it should go without saying that the flag should be in the build.
3) Size restrictions: It has to fit on a 48x48 baseplate. If you don't build on the baseplate, please take a picture with your build on the baseplate so we can see that it fits the dimensions. Please do not ask if your build can have the same number of studs in area but different size than a 48x48. The answer will be no.
4) No custom parts or stickers please.
5) You can build one entry so make it good.
6) Please make sure you follow the TOS for your builds. Staff reserves the right to remove builds that violate it.
7) Anyone can compete…including me since I am not the judge this time.
8. Pictures do whatever makes you happy but please remember forum rules for posting.
The prize:
Set 6103 but it has no box and no instructions. Essentially, it is six very cool figs with accessories.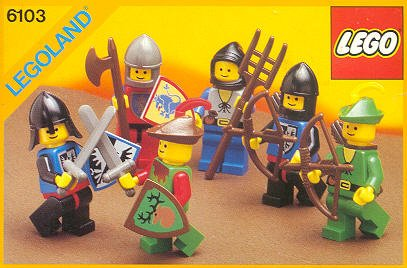 Time frame:
Ready set…GO! Contest ends August 31st midnight EST (server time)
To make it easy for the judge, please post your entry in this thread:
http://classic-castle.com/forum/viewtopic.php?f=3&t=26517
Questions, comments can be added to this thread.