1752/1804/2892 [Crossbow Boat]
20 pieces - $??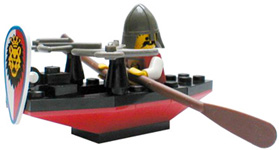 Boat with Armour
Crossbow Raft
Thunder Arrow Boat

Crossbow Boat, released in 1996 for the Royal Knights, is the smallest LEGO Castle boat. It comes with one soldier, two crossbows, and a shield. The European boxed version of this set was 1752 while 1804 was the American polybag. 2892 was released in Japan by Kabaya in 1998.


---
Images © 2004 Benjamin Ellermann and Johannes Koehler. All rights reserved. Classic-Castle.com has permission to publish these images online for non profit purposes.