1584/6060 Knight's Challenge
160 pieces - $17.50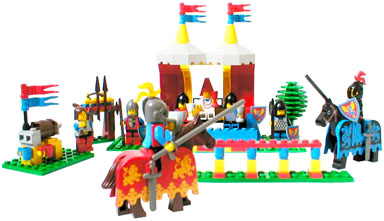 | | |
| --- | --- |
| | Knight's Challenge |

Knights Challenge, a jousting tournament for the Lion and Black Monarch Knights was released in Denmark as set 1584 in 1988. It was released as set 6060 in the United States in 1989.

The set has a grandstand for a lady and two soldiers. Two more axemen guard this area. A peasant and his keg are included along with a weapons rack. Finally, two knights on horses with bardings joust to win the tournament.


---
Images © 2004 Benjamin Ellermann and Johannes Koehler. All rights reserved. Classic-Castle.com has permission to publish these images online for non profit purposes.