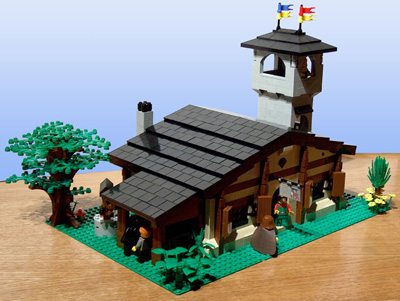 Custom Castle Sets: An interview with Eric Druon
Ben Ellermann 4 III 06

Eric is a French AFOL who designs and sells a variety of custom sets using LEGO bricks. His models include the Watchtower, Skeleton's Bridge, and the new Valiant Hart Tavern. Star Wars fans may know his Jabba's Sail Barge model and creatures from the movies. Check out his website: Baronsat. Recently I interviewed Eric about his passion for LEGO and making custom sets.

Q: When did you begin playing with LEGO?

A: In fact I had very few LEGO bricks and only when I was a small kid (around 4 years old). So the real interest came later with the Space line. But I really started to make good mocs in the end of the 90's only, at the same time I made my website. Is there a relationship? Very possible.

Q: What was your first set or favorite childhood theme?

A: My first set was a fire truck. I don't remember the serial number or year but it's old. The Space line was my favorite but I was a teenager at this time not a child.

Q: What is your favorite castle set?

A: My favorites are 6054 Forestmen's Hideout, 6066 Camouflaged Outpost and 6085 Black Monarch's Castle. I loved sets that have a secret. In this time I thought a Black castle was the coolest thing in the world except the 6987 Message Intercept base, another black set ;>)

Q: What organizations/websites/events are you involved in?

A: Well, people will say it's hard to take me out of my apartment, so I just get involved in very small events that were dedicated to toys but not only Lego. One day I'll go to the Legoworld in Holland, I promise ;>) Otherwise I'm a Lugnet member even if I don't post a lot. I keep an eye on the FBTB forums and have a gallery too.

Q: Do you have a Brickshelf link?

A: Of course I have a Brickshelf gallery

Q: Why did you decide to make custom sets?

A: A few months after my website was on line in 1999 people started to ask me if I would sell this model or that one. I first replied: "no, thanks". Inside I thought I would prefer to die than selling one of my "precious" models. But after one year I started to change my mind, first because I received a lot of compliments for my models, second because I kept all of them built and they need a lot of room. If I had used LDraw in this time I probably have modeled and taken them apart. For different reasons I didn't want to use this software. At the same time I discovered Bricklink and bought some spare parts and it changed everything. If I can buy the parts I want I can sell my model and then replace them. Suddenly they were not so "precious", just cool. I think I started like this. It's mainly the fault of Bricklink... I love the guys who created that website :>)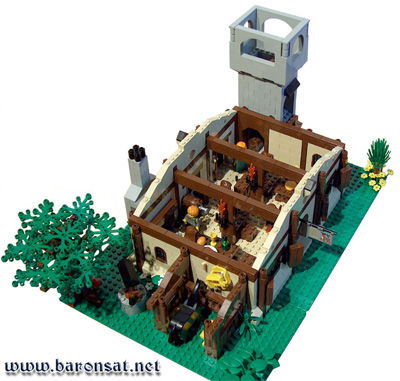 Q: The grey to bley change really killed custom castle sets for a while. If we want to use all new pieces there is a limited palate of bricks in bley to use. What are your thoughts on this problem?

A: Don't tell me about the gray and brown color change that Lego decided. I still don't understand why. I'll keep on building and selling only old colors as long as I'll can. After a while I'll have enough new colors to build with them but that doesn't mean I will love them. Particularly the new brown, it's awful. But the human race is used to adapting so I suppose I'll adapt too (note the dramatic effect, mentioning the human evolution, I feel a bit emphatic today!). Anyway that must be why my new model used mainly the Tan color.

Q: What do you think of custom set design theft which seems to be common lately? For example someone sold a near copy of my Woodcutter's Cabin set on eBay.

A: Welcome in the cruel world. Last week a German guy put on sale a Jabba's Barge that was a perfect copy of mine and before that some months ago an English boy did the same thing. Another person copied the Taun Taun and another copied the Wampa cave. But I think people copy only the best, good new for us ;>)

Q: When selling my kit I found it was very expensive making a large quantity of sets and then holding on to them until they sell. How do you combat this problem?

A: I understand very well I have the same problem. That's why I do pre-order for the big models.

Q: Are your instructions printed or on a CD?

With models I sell I use printed instructions. For instructions sale only, people can buy them printed or on a mini CD. There are samples on my website, in the shop section: here.

Q: And finally, what future sets are you planning?

A: As I wrote previously I'm more a space guy or I thought that I was. But for some months I have a different feeling and want to build different things. In December 2005, I was sorting some old stuff stored at my home and found old Amiga games. One of them was Cadaver. I remembered how fun and beautiful this game was and how much I loved the environment. I watched the box and decided to search the web for some screenshots, found them and zap I was in the Cadaver mood again. That and some old photos from a model I built in the early 90's with the Cadaver "spirit", made me want to do something and I started to build the Tavern. But the bonanza is not finished and I still want to make some more castle sets.

I have some military vehicles and playset I build in the 2 last years and stored in boxes. They belong to a "line" of adventurer/soldiers in my mind and I may try to produce them soon. But in fact I have no idea of what will be my next model, for now I feel "dry".

Thank you Eric for the interview and new insight into making a custom castle set. You can discuss this interview in our forums.


---