Element Review: Plumes
Ben Ellermann 1 X 07

Plumes have been an important part of LEGO Castle since the theme was introduced in 1978. This article will document the three evolutions of plumes, their colors, and frequency that plumes appeared in sets.





In 1978 the first minifigure Castle set was released. Four knights on horseback each had a visor which snapped onto a space helmet with dimples. These visors were molded with plumes as one piece. The yellow castle came with two copies of each color visor (light grey, red, black, and white). Later sets such as the 383 Knight's Tournament and 15 Castle Minifigures included black and red visors. Black visors are the most common followed by red, then grey and white. The most rare color visor/plume is blue. This piece was featured in several 1979 and 1980 European catalogs but never released to the public. In 1981, LEGO corrected this error with a new picture of the Yellow Castle in it's catalogs.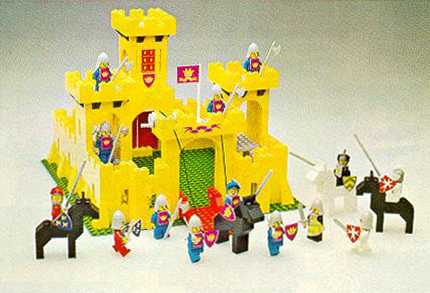 Since these visors were made of softer plastic, they often bent and no longer attached to the helmets. These helmets were thin and often broke. These problems led LEGO do develop new helmets and plumes for the 1984's full fledged Castle lineup.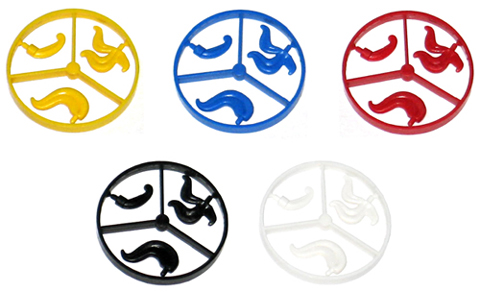 A new sprue mold was created with three sizes of plumes. Five colors, yellow, blue, red, black and white were found in 1984 sets.

Certain colors are more common than others. While it is widely known that black plumes are the most rare, that was not always the case. From 1984 to 1994, only two white plume wheels were found in castle sets while there were four black plume wheels. Only the released of Royal Knights and several Pirate accessory packs made white plumes common. The most common to least common colors are red (34), yellow (13), blue (11), White (6), and black (4).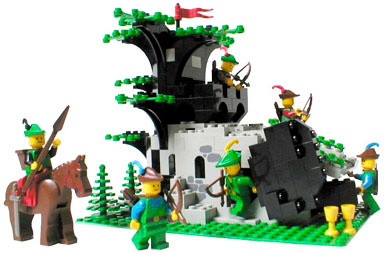 For the next six years, all mounted knights came with the largest three feather plume except the Black Falcon Knights in 6021 and 6067. Interestingly, the smallest plume was not used in sets until 1986. Since this feather is very necessary for Forestmen, it leads me to believe that Forestmen could have been in conceptual development as early as 1983.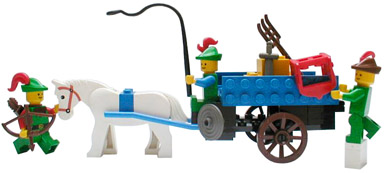 In 1990, LEGO found new ways to save money. Instead of including several different color plumes in Forestmen and Knight sets, they used just one sprue wheel in most new sets. This is evident in 1680 Crusader's Cart and 6081 King's Mountain Fortress.





In 1992, LEGO introduced a new type of plume in red, blue, yellow, and white. This new sprue included a dragon plume and two dragon wing plumes which attach to the side of pointed visors and dragon crown helmets. The most common to least common colors are red (12), yellow (6), blue (4), and white (3). Since the white dragon plume was in two accessory packs, it is not extremely rare as some may believe.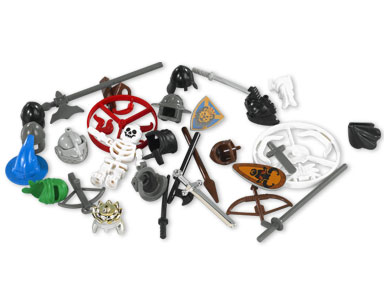 Feather plumes returned after a two year hiatus in 1995. They continued to appear in Castle sets until 2003. Dragon plumes were found in castle sets until 1995 but returned in 2003 for the Adventurer 7419 Dragon Fortress. The feather headdress plume was part of a sprue with horns that was used in Knight's Kingdom One (see 10066 Castle Accessories above). This headdress plume was never used on a castle figure.

In 2007 both the grill helmet and pointed visor were brought back for traditional knights. Unfortunately plumes were not brought back. It was announced that old feather plumes would not be in new castle sets Hopefully new and improved plumes will be released in the future. Please leave your comments about plumes in this thread.


---