Homecoming
4 VIII 15

Atahlus uses lighting and point-of-view to great effect in this scene, Homecoming. You can see this along with all of his other MOCs on Flickr and then discuss it in our forum.


---
Rotheran Tower
23 VII 15

Rotheran Tower by Deviet has been a WIP for the past year, but it was definitely worth the wait. "Rotheran Tower, once the proud home of the Rotheran family, has fallen in the hands of a feared outlaw clan. The tower is located in Wolfpack territory wich led to a bloody clan war. In their efforts of taking over the surrounding land, they have captured a Wolfpack Clan leader." Check this out, along with all of Deviet's MOCs, on Flickr and then discuss it in our forum.


---
Forechester Castle
20 VII 15

Simon Schweyer built this beautiful compact fortress, Forechester Castle as part of the Guilds of Historica over on Eurobricks. You can see this along with all of Simon's MOCs on Flickr, and then discuss it in our forum.


---
70751 Temple of Airjitzu
10 VII 15

I know this hit the internet a couple of days ago, but today is the official unveiling of 70751 Ninjago Temple of Airjitzu. We usually focus on more traditional castle themes here at CC, and Ninjago staggers in and out of being directly on point for castle builders (great buildings, alternating with motorcyles and mecha). As long as you ignore a couple of anachronistic figs, though, this set would fit perfectly in an Asian-themed castle layout. The set will run US$200, which is a lot, but it's a large set, with 2028 pieces, 12 minifigs (including, as far as I know, every non-villain main character in the Ninjago world), some elements in new colors, and some very advanced building techniques. Brickset has the full press release and more pictures, and you can see two LEGO representatives show off details of the set in the announcement video. If you are at Comic-Con this weekend, I assume this set is on prominent display in the LEGO booth. Check out the details and discuss this set in our forum.


---
The Stargazer
9 VII 15

Those of you in New Zealand should check out the Christchurch Brick Show this weekend. Forum member Legonardo (David Hensel) will be there, and he's bringing this MOC, the Stargazer. Here's his description:

"The Mystic Isles of Avalonia house many diverse persons, creatures and landscapes. Wonderful Wallace, Brother of Senneck and Harry the Hallucinating Healer, is one of them. He lives in solitude in the middle of a small cluster of islands in the center of the isles. Unlike his elder and younger siblings, Wallace has deviated from potions and other magic, and found his love in astronomy. He spends his days charting the skies, bartering with the local fishermen, and smoking pipe-weed. Also like his brothers, he has an incredibly awesome beard, which he takes great pride in. potentially more pride than what he has in his astronomical discoveries."

You can see all of Legonardo's MOCs on Flickr and then discuss the Stargazer in our forum.


---
Sleeping Beauty Castle
8 VII 15

Stephle59 made this great Sleeping Beauty Castle. It is part of a Disney-themed collaborative display called Once Upon a Time built with fellow French AFOLs Kloou, Sweetsha and N3rik68 recently on display at Fana'briques 2015. You can see all of Stephle59's MOCs (be sure to also check out the Archenval collaboration from 2012) on Flickr and then discuss it in our forum.


---
Spirit of Lenfald
2 VII 15

Forum member AardWolf is also active in the Lands of Roawia role-play over on Merlin's Beard. As part of that he built this beautiful ship, the Spirit of Lenfald, with a story to accompany it. You can see this along with all of AardWolf's MOCs on Flickr and then discuss it in our forum.


---
6086-X Return to the Black Knights Castle
1 VII 15

CC member Dubbadgrim went back to 1992 for inspiration, taking a new look at a classic set, to come up with 6086-X Return to the Black Knights Castle. His reinterpetation is greatly expanded and built with modern techniques, but still uses the aesthetic scheme and the playability of the original. Check out all the pictures of this MOC on Brickshelf and then discuss it in our forum.


---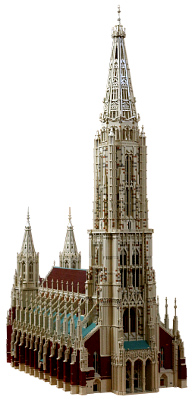 Ulm Minster
29 VI 15

Ulm Minster is the tallest church in the world, begun in Ulm Germany in 1377 but completed only 125 years ago. As part of the anniversary celebration, two Legoland model designers, Vera Feldmann and Anastasia Trautwein, built a 2.3 meter tall LEGO rendition. It was originally displayed at Legoland Germany, but is now installed in the church itself for the rest of 2015. Check this out and then discuss it in our forum.


---
Byzantium Contest winners
27 VI 15

A couple of weeks ago (sorry for the delayed front-page announcement) Maedhros announced the results of the Byzantium Contest. The honor goes to Mark of Falworth for his Battle of Nineveh 627-AD. Maedhros notes "the fact that we got a glimpse of an actual historical battle and its main players here and the build was excellently executed, with an inspiring and dynamic posing of figs which makes me long for the old Battle Contest that Josh used to host. The choice of figs and accessories was also well done, highlighting the Roman continuity of the Byzantine Empire." You can see the runners up and congratulate Mark on his win in our forum.


---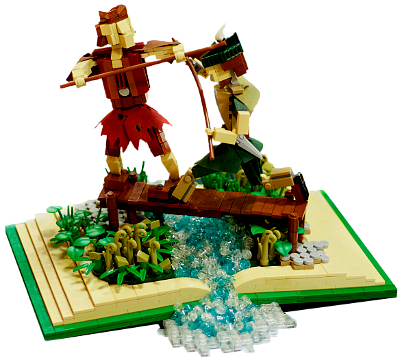 Brick Time Stories
26 VI 15

One cool collaboration at BrickWorld was Brick Time Stories. Eight different builders each made books with illustrations popping out of the pages. Books included things like Harry Potter, Where the Wild Things Are, and Paul Vermeesh's Robin Hood and Little John. You can check this out along with all of Paul's MOCs on Flickr and then discuss it in our forum.


---
Snake!
24 VI 15

Sharon Vance brought this mosaic, Snake! to BrickWorld last week. Check out some of her other work on Flickr and then discuss this in our forum.


---
Caernarfon Castle
21 VI 15

If you Didn't get a chance to see Bob Carney's latest, Caernarfon Castle, at BrickWorld, you must watch the video linked above. You can check out all of Dr. Carney's work on his site, CarneyCastle.com and then discuss it in our forum.


---
Happy Fathers Day
21 VI 15

Happy Father's Day from Classic-Castle! Go spend some time with your dad. Or, if you are a dad, go build a MOC with your kids. Pere et fils druide by Nat 94 (btw, that kid has a pretty impressive beard):


---
Building inspiration - Bodiam Castle
20 VI 15

Inspirational picture of the week - build a castle based on Bodiam. This impressive castle was built in 1385 by Sir Edward Dalyngrigge in East Sussex, England. Photo by Steve Fitch. This castle has been the inspiration for LEGO versions, including these by Bob Carney and Aquariusfuzz. You can find lots of inspiration for your building in this forum thread.


---
Kyrrath Fortress
19 VI 15

Jaapxaap built this MOC, Kyrrath Fortress, for the Guilds of Hisorica on Eurobricks. Check this out, along with all of Jaapxaap's work, on Flickr and then discuss it in our forum.


---
Enchanted Forest Diorama
18 VI 15

The Portuguese AFOL group Comunidade 0937 holds an annual show, Arte em Pecas, that always brings together some amazing MOCs. This year was no exception. CC member Cesbrick (aka César Soares) brought together a lot of his castle MOCs, along with a church by Hugo Santos and help in the assembly by other Comunidade 0937 members, to make this Enchanted Forest layout. Check this out, along with all of Cesbrick's work, on Flickr, and then discuss it in our forum.


---
Magna Carta
15 VI 15

Today is the 800th anniversary of the signing of the Magna Carta. Of course James Pegrum has MOC'd this significant event more than once, this larger version and this vig form that is part of his kings and queens of England series. You can see all of James' work on Flickr and then discuss it in our forum


---
Cinderella Castle
9 VI 15

Erik Jones crowdfunded this Cinderella Castle with an Indiegogo campaign. The final castle used over 50,000 bricks and is going to be donated to Give Kids the World, an Olando charity that brings seriously ill children to Disney.


---