1712/1732 Crossbow Cart
22 pieces - $2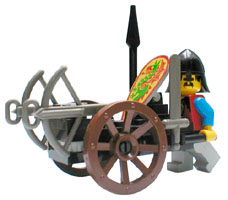 | | |
| --- | --- |
| | Crossbow Cart |

Crossbow Cart, one of the smallest Dragon Masterís sets, was released in 1993. It features a Dragon Master soldier pushing a cart armed with two crossbows, a spear, a sword, and a shield.

1712 is the American polybag version while the boxed 1732 became available in Europe in 1994.


---
Images © 2004 Benjamin Ellermann and Johannes Koehler. All rights reserved. Classic-Castle.com has permission to publish these images online for non profit purposes.