Idea Book 260
Yaron Dori and Ben Ellermann 7 IX 04

During the 1980's and 1990's idea books were produced and sold from Shop at Home. These booklets offered hundreds of creation ideas for children. The creations were made entirely from currently available sets. Back when system sets in all themes contained large numbers of basic bricks and plates, a child could make most small idea book creations while being inspired to create their own castle world.

Our article, which will be in two installments, focuses on the castle creations of 260 Idea Book which was released in 1990. Many of the 23 creations will be discussed. Each one has been built and photographed to the best of our ability. We recommend using pieces from sets available in 1987-1990 but pieces can also be found in sets from other years. Discuss the article here.

See Part I of the article here.


---
Pages 28-35: Forest Life
---
260-06 Black Monarch's Fortress
?? pieces




The Black Monarch's guard outer areas of their kingdom with this Fortress. It has a gate with a drawbridge, an archer tower, and a main tower with a jail. This idea book model shows Black Falcons with Monarch shields and fighting side by side with the Black Monarchs. Perhaps the Monarch and Black Falcon kingdoms were combined or at the very least, they were on good terms with each other.

Use 6085 Black Monarch's Castle, 6054 Forestmen's Hideout, and 6034 Black Monarch's Ghost to build this model.


---
260-07 Forestmen's Lookout
80 pieces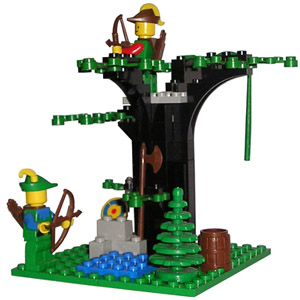 This tree lookout also has a watering hole. It can be made from 6054.


---
260-08 Forestmen's Cart
?? pieces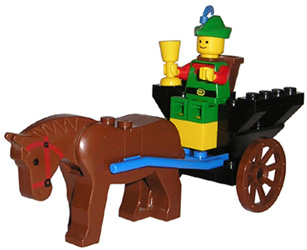 This model is made from 6016 Knight's Arsenal. A few extra black pieces and a brown horse are needed.


---
260-09 Forestmen's Tree Tower
?? pieces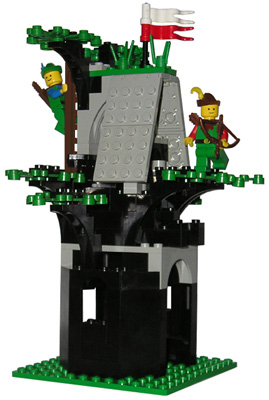 Look out! This forest is full with Forestmen arrows that can take you by surprise.

This model is made from sets 6054, 6066 Camouflaged Outpost, and the brown ladder is from 6071 Forestmen's Crossing.


---
260-16 Forest Forge
211 pieces




Forestmen make their weapons at the Forest Forge. A waterwheel is turned by the stream to run a large hammer. The model also has a bridge, a horse hitching post, and a small shack.

This model is made from sets 6039 Twin Arm Launcher, 6071, and 6054.


---