April-May 2015
---
Witcher
28 V 15

Vitroleum posted this MOC, the Witcher. I gather this is based on a video game, but I'm ignorant of the subject matter. Regardless, it's a great MOC. See all of Vitroleum's MOCs on Flickr and then discuss them in our forum.


---
Building inspiration - Urquhart Castle
21 V 15

Hey all, here's a bit of building inspiration for you. The ruin of Urquhart Castle sits on Loch Ness in Scotland. Try your hand at MOCing this fortress. You can find lots of great building inspiration in this forum thread.


---
May the Fourth be with you
4 V 15

I know we're not FBTB, but that doesn't mean we can't celebrate Star Wars today. SlyOwl's Floating Death Rock was among the winners of the Time Twisters contest five years ago. Share your cross-themed castle MOCs in our forum.


---
Your best photo
28 IV 15

Sometimes it's not about the MOC, it's all about the photo. Take, for instance, Dangerous by Ki Young Lee. There's no actual LEGO building here (aside, I suppose, from a couple of gray slopes to make the rock the skelly is leaning against). Instead it's all about the choices and positioning of the figs and dragon, the framing, camera angle and crisp photography, effects of lighting, focus, and smoke, and probably a fair amount of time in photo editing. But the result is pure awesomeness. Share your best LEGO castle photo in this forum thread - not necessarily a MOC you are especially proud of, but one where the emphasis is on the image. By the way, check out Ki Young Lee's Flickr stream for tons of great photos in castle and other themes.


---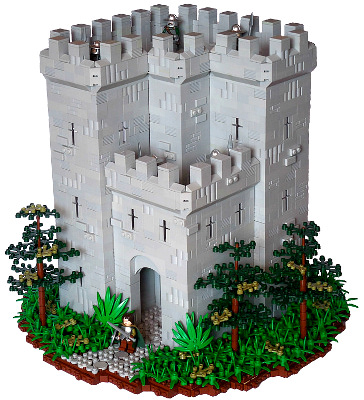 Stagdren Castle
28 IV 15

Shield-and-Sword-Bricks built this imposing keep, Stagdren Castle, as part of the Guilds of Historica community role-play over on Eurobricks. You can check this out, along with all of his other creations on Flickr, and then discuss it in our forum.


---
An End to the Madness
27 IV 15

Forum member AardWolf built this great hall for An End to the Madness, one of his most recent MOCs for the Lands of Roawia role-play over on Merlin's Beard. You can see this, along with all of Aardwolf's MOCs on Flickr, and then discuss it in our forum.


---
Castle Kjeldslot
24 IV 15

Gilbert Keith built this MOC, the Castle Kjeldslot, as part of the current Global challenge in the Lands of Roawia roleplay over on Merlin's Beard. Check it out, along with all of his other MOCs, on Flickr, and then discuss it in our forum.


---
Saint George's Day
23 IV 15

Happy Saint George's Day to all of our English members! George was (likely) a third century Roman noble and soldier, later seen as a martyr and saint in the Christian church. Legend holds that he saved a town that was terrorized by a dragon. Later he became known as the patron saint of England, and the flag of the United Kingdom is a combination of St George's cross (the red cross that runs horizontal and vertical) with the crosses of Saint Andrew and Saint Patrick (the white and red X's for Scotland and Ireland). This photo from Legoland Windsor was taken by Adrian Pink.


---
Byzantium Contest
20 IV 15

Here at CC we so often focus on the castles and history of northwest Europe, or fantasy largely inspired by the same themes. But the world of castle is so much larger. The Byzantium Contest challenges you to take a look at a different region to build creations based on the history, art, and architecture of the Byzantine Empire. Read all of the rules in this thread and post your entries here. BTW, the map of the Byzantine Empire above (circa 500 I would say) is by USS Pittsburgh NCC-2195.


---