October 2015
---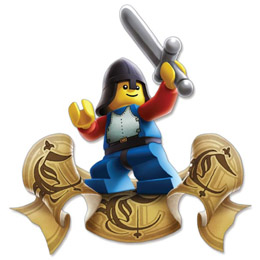 Colossal Castle Contest XIII
31 X 15

The CC Team is proud to announce our thirteenth annual building contest: The Colossal Castle Contest XIII. It begins on Halloween (October 31st, 2015) and ends on December 31st, 2015.

This contest is a bit different than other contests. We have a variety of categories each with one prize for the winner. Some categories require small creations and others need larger ones. Everyone, even with a limited supply of bricks, should be able to enter several categories. We are looking for creativity, not who has the most LEGO.

Check out the prizes. Classic Castle sets including the popular Guarded Inn, Knight's Stronghold, and Battle Dragon are prizes. Our thirteenth CCC also has it's share of haunted and spooky prizes including Black Monarch's Ghost, Witch's Magic Manor, Night Lord's Castle, and Vampyre Castle! There are also custom accessories and a custom moc prize. It truly is colossal!

Thank you to several anonymous donors, Rich Stehnach "Blackrock", soccerkid, and Wilfred of Ivanhoe for donating prizes for this contest.

The contest rules can be found here. Enjoy!

Note: Please feel free to ask contest questions in this thread. It may take several days for an admin to answer your specific contest questions. It is important to know that the admins have real lives and it may take over a week for your entry to be approved. The submit an entry page is active.




---
Orthanc
29 X 15

Here's another one that is sort of Halloween-themed, since it's the iconic evil wizard's tower. Chris Maddison built this micro version of Orthanc as part of his Iron Builder duel against Mike Nieves. The secret ingredient is the Technic forklift fork. You can see this along with all of Chris' builds on Flickr and then discuss it in our forum.


---
Fresh Blood
27 X 15

Just in time for Halloween, Andrew Lee built this micro castle right out of a horror movie: Fresh Blood. This was inspired by the Rivers of Hell by Mihai Marius Mihu & The Deathly Halliwell. You can see this along with all of his MOCs on Flickr, and then discuss it in our forum.


---
Agincourt
24 X 15

We few, we happy few, we band of brothers;
For he to-day that sheds his blood with me
Shall be my brother; be he ne'er so vile,
This day shall gentle his condition;
And gentlemen in England now-a-bed
Shall think themselves accurs'd they were not here,
And hold their manhoods cheap whiles any speaks
That fought with us upon Saint Crispin's day.

Yesterday was the 600th anniversary of the Battle of Agincourt, immortalized in Shakespeare's Henry V. HistoryLUG, aka Magnus Lauglo, Gary Brooks, Joshua Brooks and Lady Kianna collaborated to set the scene in LEGO form. See all of the pics on Flickr, and then discuss it in our forum.


---
In the thick of it
24 X 15

It's not always about the build. Brickdisciple's Flickr stream shows that dynamic fig posing and great photography are all you need. Check out all of the images, and then discuss them in our forum.


---
Zaechyr Shade Dragon
23 X 15

LEGO should hire Nuju Metru. For the past year he's been designing sets in his own custom theme called (Not) LEGO Dragon Lands. He's already designed three waves of sets --Wave 1, Wave 2, Wave 3-- and now he's started Wave 4 with "set" 64040 Zaechyr Shade Dragon. See this along with all of his MOCs on Flickr, and then discuss it in our forum.


---
Creations for Charity
21 X 15

Creations for Charity is a community effort started by Nannan Zhang in 2009. Every year, AFOLs donate MOCs, custom figs, and other LEGO swag to be sold, with all of the proceeds going to buy LEGO for less fortunate kids. Obviously by being at this site you love LEGO, and sharing that with a kid who might not be able to afford their own is just a great way to share our hobby with others. Last year, for instance, over $10,000 worth of LEGO was donated to the Toys for Tots charity, as well as to children's hospitals, orphanages, and a family shelter in four different countries. You can participate by donating your own work or by purchasing the work of others. How cool is that? You help a worthy cause, and get something cool from a fellow AFOL, like this vig, Attack of the Crazed Crusader by forum member LittleJohn.


---
The Magician
20 X 15

David Hensel, Legonardo in our forum, built this whimsical tower MOC, The Magician, inspired by a painting by Péah. This will be on display at the Aukland Brick Show and at BrickCon NZ over the next couple of weekends. Check out all of David's MOCs on Flickr and then discuss this in our forum.


---
Arandin Fortress
19 X 15

This weekend Str0ngbad posted this amazing MOC, Arandin Fortress. This imposing castle was his entry for a challenge in the Lands of Roawia roleplay over on Merlin's Beard. You can see this along with his other MOCs on Flickr, and then discuss it in our forum.


---
The Wall: Rome's Northern Frontier
16 X 15

James Pegrum, Jimmy Clinch, Simon Pickard, Steve Snasdell, Dan Harris and Barney Main collaborated on a huge build of Hadrian's Wall. It was unveiled for the first time at the Great Western Brick Show in October 2015 and will be on display again at London's Brick 2015 in December. You can see pics in each of their Flickr streams or in the Brick to the Past Flickr group, and then discuss this in our forum.


---
Crashed TIE
15 X 15

Continuing a look at mash-ups inspired by our recent contest and the Nexo Knights, earlier this year Mark van der Maarel was challenged by a contest on Imperium der Steine to combine Castle and Star Wars. Inspired in part by Paddy Bricksplitter's When Themes Collide, he came up with this Crashed TIE. See this along with all of his MOCs on Flickr, and then discuss it in our forum.


---
Skavenport
14 X 15

"The City of Skavenport was one of the strangest cities in Nocturnus, where indeed many a strange town existed. Maybe it was even one of the most peculiar cities in all of Historica. But at the first glance a visitor could find no difference to any other bustling town. ... But this most special town was inhabited by rats. Not only rats, but rats and men together, side by side. Because this was the city of Osric Isentooth, the Rat Lord."

Jacob Nion built Skavenport, a city in the Guilds of Historica. You've simply got to read the full description, as the writing is as enjoyable as the MOC. Check out all of the pictures, along with his other MOCs, on Flickr, and then discuss it in our forum.


---
Warcraft: Orcs and Humans
13 X 15

Old school gamers will surely recognize Durazno33's LEGO rendition of the mid-90's strategy video game Warcraft: Orcs and Humans. Even if you don't have a tug of nostalgia, check this out, along with all of Durazno33's MOCs, on Flickr to see all of the microscale details, and then discuss it in our forum.


---
Windland Tower Checkpoint
12 X 15

Piotr Machalski's Windland Tower Checkpoint includes some really interesting textures, with the contrast between the studs-up and studs-out portions, and also that middle section made of stacking this element. Other nice details are the signs of past battle damage and that great portcullis. Check this out, along with all of Piotr's MOCs, on Flickr, and then discuss it in our forum.


---
Nexo Knights
9 X 15

LEGO has officially launched the Nexo Knights line, with a display at Comic-Con NY, a page on Lego.com, YouTube videos, and good images of two of the sets. See all we know and share your rants and raves in this forum thread.


---
Castle goes to Space winners
8 X 15

We are very pleased to congratulate the winners of the Castle goes to Space contest. Since we had enough entries there were two prizes, and we divided these up between the best "Castle turned Space" entry and the best "Space turned Castle" entry.

Leopold took top spot for her "Castle turned Space" entry, taking set 7079, Drawbridge Defense and turning it into Attack on Space Priestess Base. She wins a copy of 70806, Castle Cavalry.

Soccerkid6 came out on top for "Space turned Castle", taking set 5980, Squidman's Pitstop and turning it into Mitgardian Smithy. He wins a copy of Great LEGO Sets: A Visual History.

Check out all of the great entries. This contest turned out to be a lot of fun. Thank you to all who participated. Be sure to congratulations the winners in our forum.


---
Coxwell Cottage
7 X 15

Three weeks ago Brother Steven posted this beautiful MOC, Coxwell Cottage. See this along with all of his MOCs on Flickr and then discuss it in our forum.


---
Spastle MOCs
6 X 15

In the spirit of the upcoming Nexo Knights theme and the just-completed Castle goes to Space contest (results will be announced in a couple of days), let's continue to share space castle theme mash-ups. Post any Spastle MOCs that you made, or just favorite ones you've found by others online in this forum thread. This MOC, Castletron Stallion, was built by Pascal a few years ago.


---
Nexo Knights
1 X 15

As many of you are probably aware, Nexo Knights is an upcoming theme due out in January (along with a new show on Cartoon Network). This non-licensed theme will apparently be a mashup of Castle and Space (not unlike a certain contest that ended about seven hours ago - huge thanks to all who entered, judging will start right away). This morning LEGO released this image, first in the Austrialia LEGO Club Magazine, but presumably it is being rolled out worldwide. Thanks to Brickset for posting the full size image. So, what do you think? Discuss this new theme in our forum. One caution, please do not discuss any stolen leaked images you find as those posts will be removed as a violation of our TOS.


---