January - June 2016
---
Going on an Adventure
4 IV 16

Over on MOCpages, MELO 2016, the Middle Earth LEGO Olympics, is in full swing. The first round (just concluded) challenged builders to build a scene from the Hobbit. Noel Peterson made a strong showing with his rendition of Bilbo's run from Bag End, I'm going on an adventure! Check this out along with all of Noel's MOCs on Flickr, and then discuss it in our forum.


---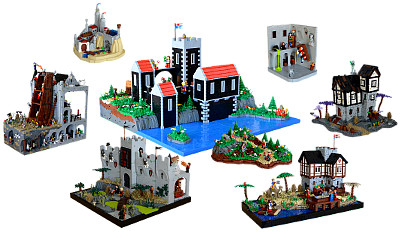 Colossal Castle Contest XIII Master Builder
26 II 16

Every year the Colossal Castle Contest inspires great building from lots of different builders, but there are always a few people who excel all around. The Master Builder award is given to the individual builder who enters at least six different categories and does the best all-around. This year there were several people with extremely impressive sets of entries, people like Aardwolf, Jaapxaap, josdu, KyleKreations, Marcu44, and Soccerkid6, just to name a few, but in the end there can be only one. I'm sure this is no surprise if you've looked at the list of winners and noticed how often one name comes up, but this year's Master Builder is ... drum roll please ... Dubbadgrim. Be sure to check out his truly impressive body of work, including those below, and congratulate him on his win.


---
Colossal Castle Contest XIII winners
21 II 16

We are extremely pleased to announce the winners of Colossal Castle Contest 13! As with every year, you guys always impress us with your creativity and building skill. We've also noted several honorable mentions in each category.

If you won a category, please contact Ben Ellerman to arrange for shipping of prizes.

We will announce the Master Builder in a few days time.

Please congratulate the winners and all of the participants in the longest running (and, in my completely unbiased opinion, the best) AFOL community contest.




---
Arangr Castle through the year
19 II 16

Winter, spring, summer, or fall, all you have to do is call, and Soccerkid6/Isaac will be there with this amazing series of MOCs. He took Arangr Castle and then transformed it through the seasons. Look close to see how small details change through the year. You can see this series along with all of Soccerkid6's MOCs on his website (along with his brothers John and Kevin), BrickBuilt, and on Flickr, and then discuss it in our forum.


---
Brothers Grimm
17 II 16

Markus Rollbühler built this great MOC, the Brothers Grimm for the Brickstory contest on the Croatian LEGO site Kockice. He depicts two main Grimm stories, but says there are references to four other stories hidden in the MOC. Can you identify them all? You can check this out along with all of Markus' creations on Flickr, and then discuss it in our forum.


---
Castle Tank
12 II 16

Hey, I found another Nexo Knights MOC. Last fall, Carrier Lost built this Castle Tank inspired by preliminary pictures of the Fortrex set, but with a much better color scheme. Check out a head-to-head comparison and see all of Carrier Lost's creations on Flickr, and then discuss it in our forum.


---
Nexo Knights Origins
9 II 16

This is the first real Nexo Knights MOC I've seen, and it's awesome. Milan Sekiz didn't really fill in the story for his Nexo Knights Origins, but I think the pictures pretty much tell the story: In the dark past, a wizard sent four brave knights through a magic portal. There they find themselves in a futuristic sci-fi world, and the kingdom they found becomes the realm of the Nexo Knights. You can see this along with all of Milan's MOCs on Flickr (be sure to check them all, great stuff from a variety of themes), and then discuss this in our forum.


---