October-December 2016
---
But the Bard's Song will Remain
29 XII 16

Letranger Absurde posted this great winter scene, But the Bard's Song will Remain earlier this year. See this along with all of his MOCs on Flickr and then discuss it in our forum.
---
Carrie Fisher 1956-2016
27 XII 16

Very sad to note the passing of Carrie Fisher, actress, screenwriter, author, best known to all of us in the iconic role of Princess Leia. Fisher suffered a heart attack four days ago and passed away this morning.
---
Colossal Castle Contest XIV: Naughty List
CC Team 18 XII 16

Are your entries not getting approval even after submitting them 23 times? You may want to check our annual CCC Naughty List.

Entries make this list if your images are too large, you have too many images, broken links, missing white background (1 image), etc.

Reviewing the contest rules found here is also a good idea. Admins will respond to your questions in the thread as well.


---
Colossal Castle Contest XIV
CC Team 1 XI 16

The CC Team is proud to announce our fourteenth annual building contest: The Colossal Castle Contest XIV. It will begin on November 1st and end on December 31st, 2016.

This contest is a bit different than other contests. We have a variety of categories each with one prize for the winner. Some categories require small creations and others need larger ones. Everyone, even with a limited supply of bricks, should be able to enter several categories. We are looking for creativity, not who has the most LEGO.

Check out the prizes. Classic Castle sets include the popular Forestmen's Hideout, Camouflaged Outpost, Dungeon Hunters, Twin-Arm Launcher, King's Archer, Knight's Arsenal, and Castle Guard. The fourteenth CCC also has other awesome prizes including LEGO Books, Gold Getaway, Troll's Warship, Elsa's Sparkling Ice Castle, and Kingdoms Joust. It truly is colossal!

Thank you to several anonymous donors and Rich Stehnach "Blackrock" for donating prizes for this contest. The contest rules can be found here. Enjoy!

Ask admins contest questions here.


---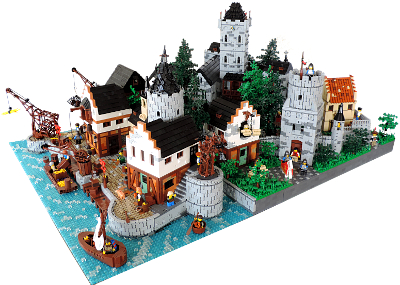 Toltobury Wharf
20 X 16

At 3x4 baseplates, Toltomeja's latest MOC, Toltobury Wharf, is an amazing layout. You simply must click through to the folder to see all of the details. Be sure to give feedback on this great scene in our forum.
---
Bayeux Tapestry
14 X 16

On this day 950 years ago, the forces of William the Conqueror were victorious in the Battle of Hastings. This battle was depicted in the Bayeux Tapestry, a fragment of which is recreated here in LEGO form by Nathan Sawaya. Nathan is perhaps the best known LEGO builder to the general non-AFOL public, as his works have been shown at museums around the world, such as this installation of his Art of the Brick show photographed by Tom Alphin in Seattle earlier this year. Check it all out and then discuss it in our forum.
---